LEI APPLICATIONS
SOFTWARE & SOLUTIONS
FASTER LEI ISSUANCE
Application processing automation and business logic results in streamlining and reduction in approval time in terms of client response, regulatory requirements and service level agreements.
REDUCTION IN STAFFING
Process automation, digital risk management, and embedded data verification reduces the need for manual intervention and allows staff to focus on approval and higher volumes of applications.
GUARANTEED DATA QUALITY
pTools Notarization and Forms Technologies embeds data quality into the application process presenting pre-defined options that comply with the GLEIF data schemas.
BULK LEI UPLOAD
pTools LEI applications processing enables individual and bulk upload, and management for requestors in a manner that enhances client relationships while maintaining data quality.
GLEIF 'DAILY FILES' AUTOMATION
Daily generation, formatting, naming and upload of the Legal Entity Reference Data, Relationship Records in the Common Data Format and Provisions Node Identifier versions, Parent Reference Data and the Reporting Exception files to the GLEIF.
PARTNER ISSUANCE MANAGEMENT
The LEI Management Solution supports LEI applications through third parties such as Registration Agents and similar agents and the subsequent validation and approval in the LOU, and is Validation Agent ready.
IMPROVED DATA VALIDATION
Automated data validation, look-ups and cross-checking drives improvement in data validation. Risk of fraud, regulatory impact and reputational damage is significantly reduced.
GLEIF API INTEGRATION
Direct integration of the application with the LEI system APIs including Duplicate checks, Data Quality pre-checks, Daily File production and uploads for the LOU.
CLIENT RENEWALS PROCESSING
Full support of client notifications and messaging around the renewal cycle and the automatic LEI status and expiry management along with payment processing.
ENHANCED WiW AND WoW PROCESSES
Level II ownership data management leveraging integration with the GLIEF dataset and the integration of business registry data, including optimising the workflow on the application's Entity Category and Exception Record reporting.
KEY BENEFITS:
SLA deadlines are turned into positive response times
Experienced staff are empowered to handle escalations & issues
Data quality is transformed by enforcement of data standards
Template based bulk application processing
Automation of scheduled tasks
Seamless inclusion of third parties into application process
Automation validation of form fields against trusted sources
Proven integration with GLEIF systems
Automation messaging & payment processing
Business registry integration & validation of level II ownership data
See more of our solutions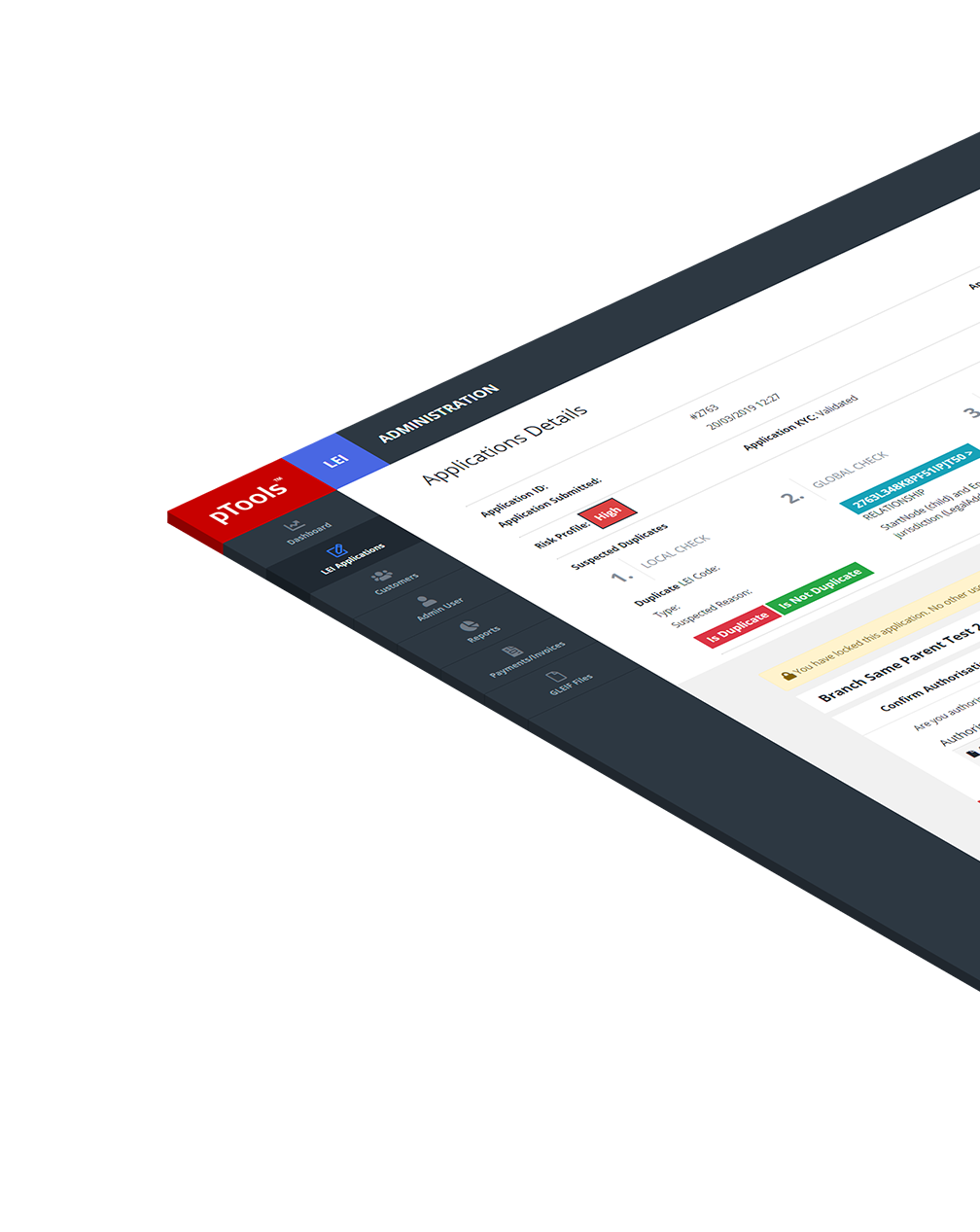 LEI APPLICATIONS
SOFTWARE & SOLUTIONS