Corporate Actions & Announcements
SOFTWARE & SOLUTIONS
AUTOMATED DATA CLASSIFICATION AND EXTRACTION
pTools solutions leverage Artificial Intelligence and Natural Language Processing (NLP) in the context of targeted data extraction to automate the processing of data categorisation.
AUTOMATE ASSESSMENT OF DOCUMENT AND IDENTITY RISK
The solution indexes and analyses language, sentiment, key phrases, entity data, analysis across different fields and formats for approval and validation of related entity and authentication.
ENABLING NEWER STAFF TO HANDLE COMPLEX ANNOUNCEMENTS
Solutions capture organisational knowledge of experienced staff that have worked in announcements for many years and allows
newer staff members to process announcements more effectively.
ESCALATION OF DATA QUERIES TO MORE EXPERIENCED STAFF
By enabling newer staff to handle complex announcement where issues occur and detailed document analysis is required the solution automatically escalates such issues to senior staff.
RISK MITIGATION AND ERROR REDUCTION
Continued "Learning" and rule setting in NLP helps the system adapt to new validation scenarios and information formats. This automated processing reduces the potential for manual processing errors and increases accuracy and consistency of publishing in standard output.
ARTIFICIAL INTELLIGENCE AND NLP DEFINITIONS
NLP offers a wide range of automated data definitions; Indexing, Sentiment Analysis, Pattern Matching, Named Entity Recognition, Boundary Detection, Terminology Extraction, Data Grouping.
AUTOMATIC ANNOUNCEMENT DEFINITION
The use of NLP automates core announcements attributes, including; Company/Issuer Name Identification, Announcement Date, Dividend Amount, Dividend Type, Record Date and more.
SWIFT MESSAGING/CODES
Current developments include the addition of suggested SWIFT messaging codes to aspects of announcement data. This enhances the value and readiness for syndication across markets.
REFERENCE DATA INTEGRATION
To further enhance the validation of announcements data, the system offers reference data integration capabilities oriented to company identity and matching to LEI and ISIN codes.
SRD II COMPLIANCE
Compliance with SRD II (Shareholder Rights Directive) is a significant undertaking and automation of announcements enables improved reference data matching and syndication.
KEY BENEFITS:
Leverage Artificial Intelligence to automate data definition in
announcements
Use Natural Language Processing to validate & authenticate data
Newer staff are empowered to handle announcements
Experienced staff are empowered to handle exceptions
Automation reduces human error & reduces risk
Automatically identify core announcement attributes including sentiment
Automate core announcement attributes for publishing
Get suggested SWIFT messaging codes automatically
Automatically integrate relevant Legal Entity Identifier (LEI) data &
other reference data sources
Improve SRD II compliance for announcements publishing
See more of our solutions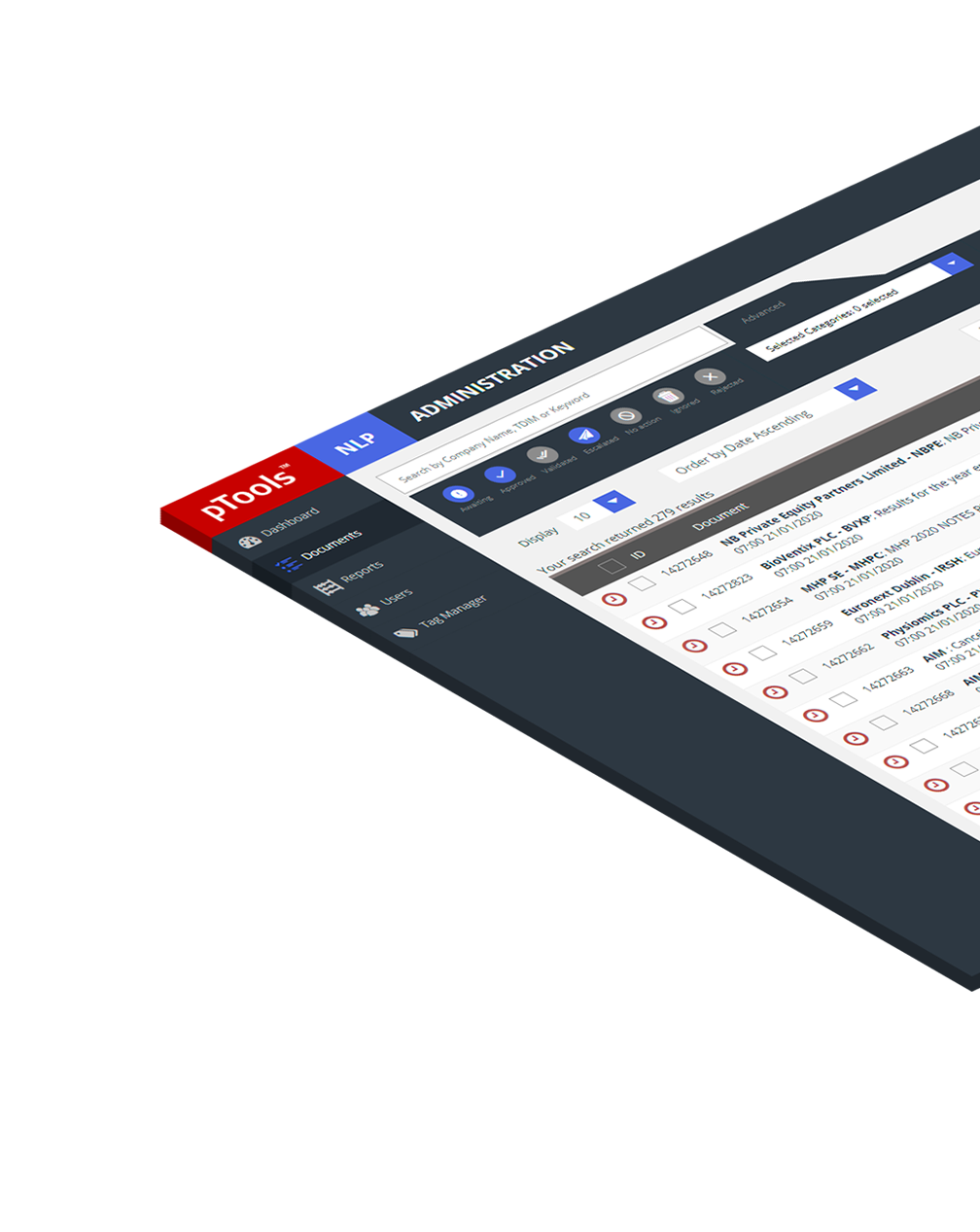 Corporate Actions & Announcements
SOFTWARE & SOLUTIONS